Warehouse and full set of Machines
(Abu Mizan, Lebanon)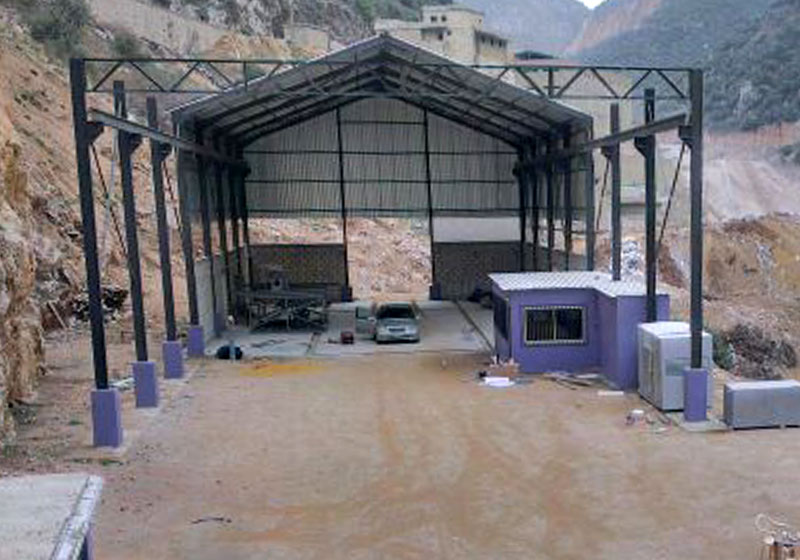 This project is made for Mrs. MARBCO, in Abu Mizan, Lebanon.

This project is composed of 5 machines and a Warehouse:
Movable Bridge Cutting Machine
Template Copying Machine 1 Disk
Stone Drilling Machine
Hand Polisher
Overhead Crane 5 Tons
Warehouse

1- The Movable Bridge Cutting Machine is fully automatic.
The table moves up 80 degrees to allow putting the slab on the table, then it goes back to the normal position to allow cutting. The table rotates 45 and 90 degrees.
The disk moves up and down, forward and backward automatically. It is laser guided. The movement of the disk is regulated by an inverter with perfect accuracy, high reliability allowing easy operation.
This machine allows cutting multiple slabs in the same time (per examples 7 slabs per 20mm of thickness each); we can reach to 150mm of thickness.
All functions in this machine are automatic, only changing the measurements is manual. But we can also produce this machine with full automatic system (PLC), where also the measurements will be controlled automatically.
We can move this machine wherever we want.

2- The Template Copying Machine works with 2 modes.
First mode: It works as a template copying system.
Second mode: It works as a normal automatic bench saw.
It has a hydraulic table.

3- The stone drilling machine is used to drill the stone and marble. It is easy to operate and maintain. The performance is very stable and the life of work is very long. It works in manual mode and it is wall fixed.

5- The Hand Polisher is suitable for polishing marble and stone. It is wall fixed, and works with manual mode.

5- We can produce all kinds of cranes and Warehouses upon request.